Community Involvement
Primary Bank is proud to partner with local businesses and organizations to strengthen our community. Here is a highlight of our recent community partnerships:
Supporting the New Hampshire Food Bank
Primary Bank partnered with WMUR-TV to support The New Hampshire Food Bank, and share the 'Spirit of Giving' during the holiday season.
As the only food bank in the state, The New Hampshire Food Bank distributes nutritious food to more than 400 partner agencies who, in turn, distribute to food pantries, homeless shelters, soup kitchens, children's programs, and senior centers across New Hampshire.
In 2021, The NH Food Bank provided more than 14 million meals by distributing 17 million pounds of non-perishable food items, fresh produce, and meats.
With the generous support of our customers and our team, Primary Bank branches delivered more than 840 lbs. of food to the Food Bank.


Youth Sports Night at the Fisher Cats
Primary Bank partnered with the New Hampshire Fisher Cats Baseball team to host the first Youth Sports Night. Young athletes from across New Hampshire fought for a chance to win $1,000 for their organization.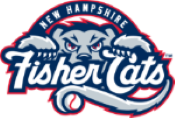 Kids from baseball, football, soccer, and basketball competed in separate between-inning contests on the field at Delta Dental Stadium. These contests required tremendous skill, and a little bit of luck, and included football target throw, baseball target throw, basketball pop-a-shot, and a soccer obstacle course with goal. The field narrowed down to the semifinal round which featured head-to-head competition, with the winners of each semifinal round advancing into a final match-up.
The winner of each sport earned a $1,000 donation to their organization from Primary Bank!
Strengthening and serving New Hampshire has always been our primary focus which is why we have become the bank of choice for many local businesses.
Congratulations to these young men and women and the many other New Hampshire athletes who have made an incredible impact on their communities.
The Salvation Army
In support of the Rotary Club of Bedford, NH, the Primary Bank Team took part in the annual Red Kettle Campaign for the Salvation Army of Manchester, NH. Donations to the iconic campaign help provide shelter and meals for the homeless and hungry, Christmas toys for children, in addition to numerous other social service programs year-round. Every donation put into a red kettle in Manchester, Bedford or Goffstown, stays local to help folks in those communities.
BeBOLD Bedford - Building Our Lives Drug Free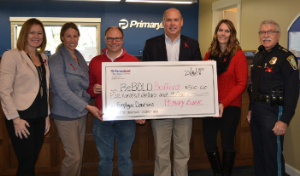 In support of BeBOLD's Red Ribbon Awareness Week, Primary Bank employees donated $500 from our jeans Friday fund. "Bedford Goes Red" is a local, community effort sponsored by BeBOLD to stand up against substance abuse and show support to those who are affected by substance abuse. BeBOLD is a non-profit drug awareness, education and prevention coalition in Bedford. BeBOLD's mission is to prevent substance abuse in the community by educating Bedford's adults and youth about the current dangers of all kinds of substance abuse, including alcohol, illegal drugs, prescription drugs and tobacco.
.
Boys & Girls Club and New Hampshire Fisher Cats 
Primary Bank is pleased to partner with The Manchester Boys & Girls Club and the New Hampshire Fisher Cats to recognize members of the club for their outstanding achievements. Throughout the season, nominated club members are recognized in front of the crowd at a Fisher Cats game and presented with a signed team ball, team jersey, award certificate and check from Primary Bank, and have the opportunity to throw the first pitch.
The Boys & Girls Club brings so much to this community and we identify the importance of working together to highlight the youth and their accomplishments.
Camp Allen
Primary Bank employees donated $820 from our jeans Friday fund to sponsor a summer camper at Camp Allen in Bedford.  Employees donate $5 for the opportunity to wear jeans to work on Fridays. Donations are used to support local organizations throughout the year. Camp Allen provides residential and day camps to individuals of all ages with developmental and physical challenges. More than 650 children and adults enjoy fun activities in this beautiful setting for a 12 week season each summer.
New Hampshire Commercial Investment Board of Realtors
Primary Bank sponsored the first New Hampshire Commercial Investment Board of Realtors (NHCIBOR) Summer Mixer at the Brookstone Event Center in Derry. 150 members came together for music, raffles, silent auction, wine & beer tastings and networking. All proceeds from the event will go to CIBOR Charities. Congrats to Scott Kingsley, VP, Commercial Lending at Primary Bank for chairing this successful event!