Awards
Primary Bank is proud to share our recent awards and accolades with our community.
Primary Bank is the #2 Healthiest Bank in the US, #1 in New England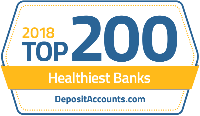 Primary Bank has been recognized as the #2 Healthiest Bank in the USA, and the #1 Healthiest Bank in New Hampshire and New England by DepositsAccounts.com, a subsidiary of Lending Tree. The financial health of over 11,000 banks and credit unions in the United States is evaluated once per quarter. To determine bank ranking and recognition, DepositAccounts.com grades each institution on a number of factors, including capitalization, deposit growth, and loan-to-reserve ratios.

For a complete listing of the 2018 Top 200 Healthiest Banks in America, visit DepositAccounts.com.

CRDC Awards Primary Bank 2018 Bank of the Year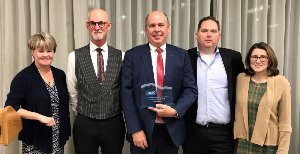 The Capital Regional Development Council (CRDC) presented Primary Bank with its 2018 Bank of the Year Award. The award is based on highest dollar volume of lending of loans referred to CRDC in the fiscal year ending Sept. 30. CRDC is a non-profit regional development corporation that provides a variety of economic development services to businesses and local governments throughout New Hampshire. This is the third award the CRDC has presented to Primary Bank since our opening in July,  2015.

Visit the CRDC website for award information.
Business Excellence Award Winner, Bill Stone of Primary Bank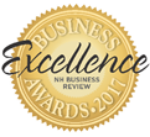 NH Business Review's Business Excellence Awards recognize the imagination, industriousness, innovation and achievements of business owners and operators in New Hampshire. Bill Stone, president and CEO at Primary Bank in Bedford, NH is the 2017 Business Excellence winner in the financial services category for a small organization.
Nominees are evaluated on industriousness; innovation, vision and creativity; employee and customer relations; achievements and accomplishments; overcoming adversity or competition; overall success of company or organization; dedication to chosen profession; and community involvement.
Visit nhbr.com for Award information.
Dallas Lagerquist of Primary Bank Named Granite United Way's Volunteer of the Year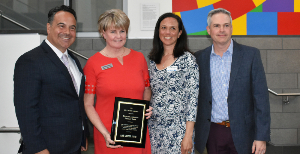 Primary Bank is proud to announce that our VP, Business Development Officer, Dallas Lagerquist has been named United Way's Volunteer of the Year. Dallas works with the Southern Region of the United Way on their Employer Campaign committee to earn more supporters for the annual campaigns. She helped coordinate the Granite United Way Employee Campaign at Primary Bank, increasing dollars raised by 100% this year. "Primary Bank is very supportive of my volunteer work," says Dallas. "It is essential for a local bank to give back to the community." Read more